http://www.lesleyheller.com/exhibitions/20130908-ron-gorchov
I first met Ron Gorchov and saw his work at Magoo's bar in Tribeca during the mid 1970's.
Tommy, the one-eyed, quasi Mafioso proprietor had been busted during the Knapp Commission for providing hookers to corrupt judges and cops on the premises. Apparently as part of Tommy's community service Magoo's was then reinvented as a bar and grill catering to the recent influx of artist types. Tommy created a loyal artist following by instituting his famous burger & beer collection. If you were one of the lucky patrons, Tommy would take a piece of art in exchange for a tab of equivalent value. That coupled with a very popular pool table made Magoos the place to see and be seen in below Canal St.
Gorchov's painting was prominently featured above the pool table lounge, where as I recall he would occasionally hold court, but not play pool.
Fast-forward to the LHW exhibit, where Ron Gorchov has mounted a quiet exhibit of small works on hand made paper that maintains a stately presence.
The artist's work at Magoos was typical of his earlier "potato chip" shaped stretchers that warped their way into prominence. There is still a hint of the signature 3D bow to some of the art, but mostly they have relaxed into flatter configurations.
Gift From The Nixians V

A Gorchov trademark that does seem to have remained virtually unchanged are the familiar vertical slashes. This move animated what might otherwise result in a clunky looking attempt at mask making. But then Gorchov has never pretended to be a virtuoso; his wobbly, concave structures carve curvilinear boundaries in space, while his mark making espouses the virtues of loosely informal technique.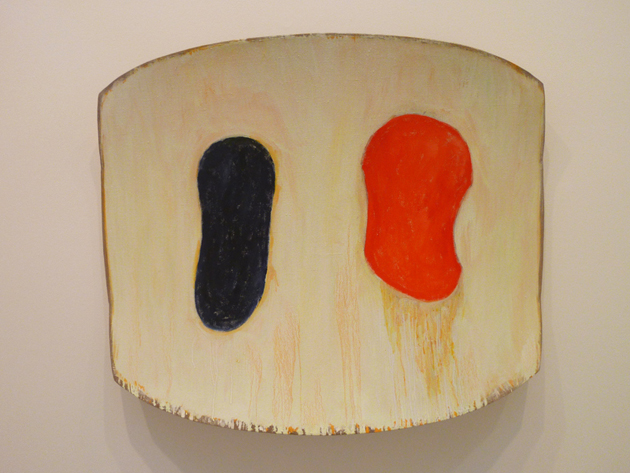 Vintage Gorchov, (not in the Heller exhbit)

What does seem to have evolved in the recent works on paper is a textural integrity. The thick, wafer-like ground provides stability for inherently diffuse, lightly pigmented forms floating in their constrained, yet unframed ether.
I'm not sure I buy into the artist's grand scenario of Greek mythology in any literal sense, but from an historical perspective these pieces could be seen as ethereal symbols relating to shields or coats of arms. The gallery installation also works well with the generous use of wall space, giving these plaintive, but intimate works a chance for their soft sound to be seen.